Calvert Regional Park is a Cecil County Parks and Recreation facility being built in phases on Brick Meeting House Rd. near the intersection with RT 273.
There is little disagreement that the park is beautiful and should be a source of pride. It's home to Cecil County's first artificial turf playing field as well as 9 additional fields and a walking trail.

Cecil County Parks and Recreation has the lowest per capita funding in the state of Maryland
I have always been supportive of Cecil County Parks and Rec, in fact, I emailed Cecil County Executive Tari Moore and the county council on May 7, 2013 to support the department's annual budget request:
…CCPR offers a wide range of activities at price levels that are accessible to many residents. I'm impressed with the work Cecil County has done to provide facilities especially in these down economic times…
Three years later, CCPR continues to offer programs at fees that are significantly lower than similar nearby programs and is another example of a Cecil County department doing more with less.
How much less?
Cecil County spends only $9 per person per year on parks and recreation programs–the lowest per capita spending in the state of Maryland! The statewide average is $99.
Shocking. Sad.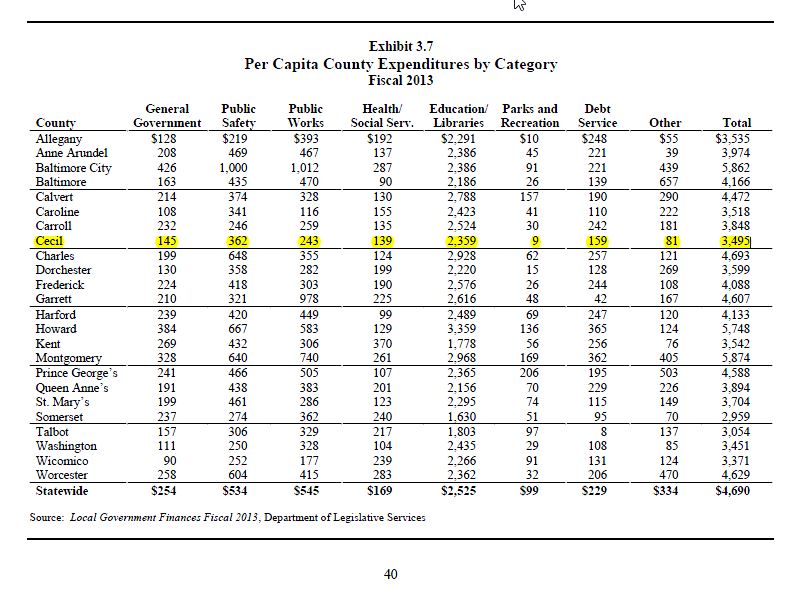 To summarize what I've said so far: Yay, Cecil County Parks and Rec! You're doing the best you can with the meager funding you've received.
Now, let's talk about the points that we may disagree on.
Comments from the Cecil County Budget Hearing
Last week the citizens of Cecil County had an opportunity to share our thoughts with the Cecil County Council about the proposed budget for FY 2017. It was the smallest crowd I've seen for a budget hearing in the last few years but it was also held considerably later than in years past and was scheduled for the Thursday before Memorial Day so I'm sure families were busy making plans for the long weekend or attending the many little league games that have had to be postponed during this soggy spring.
Some of the usual groups attended and advocated for funding for Cecil College, the Cecil County Public Library, and Cecil County Public Schools. We gave our usual remarks and even joked on our way out about the frustration of having to say essentially the same thing every year with little change in behavior from the county.
I used my three minutes to cover the points in my recent blog post about my mixed feelings on the budget (Here's a link if you haven't read it)
At the end of my allotted time, I talked about Calvert Park, I asserted that no more money should be invested in the park until the more pressing needs of the county have been met.
The powers that be in Cecil County have watched the school system's deferred maintenance list balloon to $44 million over the last decade. Now the county appears to be willing to put the department of public works on a similarly destructive path by slashing its budget by $2.4 million, including the elimination of $1 million of paving. Here's a post about that.
As long as Cecil County can't adequately fund necessities like schools, roads, and law enforcement, it has no business investing more money in Calvert Park.
As long as the existing playing fields at our schools are either bare or nothing but weeds, no more money should be invested in constructing additional playing fields at a facility that many kids in our county will never have the opportunity to play on.
Facts about the Calvert Regional Park project
Here are the facts I've dug up about the Calvert Park project.
Costs
| | |
| --- | --- |
| $8,913,000 | Total Project Cost |
| $4,907,000 | Amount Spent Thru FY 2016 |
| $1,826,000 | Proposed Spending for FY 2017 |
Source: Cecil County Maryland 2017 Capital Improvement Program (CIP), Proposed March 21, 2016
How would that $1.8 million be spent?
While there are few details of the project in the CIP, here's how it was described in a November 19, 2015 article from the Cecil Guardian:
"…enhancing the already popular trail in the park, adding two more playing to the current ten fields at the park, a dog park, and additional parking."
Did you get that? Paving at one facility in the entire county but cutting the budget for paving county roads…and a dog park. I love dogs; our giant beast of a mutt nearly smothers me every night but Cecil County is a long way from being able to afford a dog park.
A few additional facts about Calvert Park
One of the main justifications for developing Calvert Park the possibility of drawing large sports tournaments to the area. Phrases like "sports tourism" and the promise of "economic revitalization" have been tossed around as supporters grasped to justify the project.
Here's one problem:
A privately funded sports complex is being built 15 miles away in Middletown, DE–an area that already has the tourism infrastructure required to host a large tournament like hotels and restaurants. Here's an article with more information
When completed, the Delaware Sports Complex will include, among other things:
20 World Cup-sized fields
16 Baseball/Softball diamonds
A full-sized indoor turf field with seating for 1,000
That's way out of our league. In sporting terms, that facility will be the equivalent of the show and we'll be playing single A ball.
Project Benefits One Area of the County
Since my sons are older teens, I thought neither of them would eever have the opportunity to play on the only turf field in the county because it's padlocked shut. Fortunately or unfortunately, Perryville High School hosted the UCBAC track and field meet on our new track on the same day our boys' lacrosse team was required to play a playoff game. An arrangement was worked out that allowed Perryville High School and Bohemia Manor High School to play on the turf at Calvert Park.
Calvert Park is a beautiful facility and those who can travel there will continue to enjoy it but it won't be the huge economic driver some in the county are hoping for.
North East and Rising Sun will see some economic activity from the facility but towns farther away like Perryville and Elkton will see little economic benefit.
Where's the casino money? I think part of it is going to Calvert Park
Ah, the casino money (video lottery terminals, in political speak). Aside from the portion the County awards through the annual grant program and the amount the town of Perryville receives, I haven't spent much time thinking about where Cecil County spends the rest of the money.
Until I started looking at the county's CIP…
A chunk of the casino money is going to the Calvert Park project:
| | |
| --- | --- |
| 2015 | $187,000 |
| 2016 | $292,000 |
| 2017 | $187,000 |
| 2018 | $187,000 |
By the time the project is completed, $853,000 of the VLT funds funds will have been spent there. I'm not saying there's anything wrong with using part of the revenue from the casino on such a project, however, it appears to be the only capital project that is planned to receive funding from that source in FY 2017, at least as far as I can tell from the CIP.
The Cecil County Council Deliberates on the FY 2017 Budget today and votes on Tuesday
The Cecil County budget will be finalized in the next few days. I encourage you to contact our county representatives with your opinions on the budget.
Here are email addresses to copy and paste: [email protected], [email protected], [email protected], [email protected], [email protected], [email protected], [email protected], [email protected], [email protected]