To the uninformed voter (I admit I was a member of that group until recently), casting a vote for a board of education member may be a no-brainer. Since the positions are considered non-partisan, no party affiliation is noted next to the candidate's name on the ballot.
Uh oh.
Now what do you do? You can't throw darts in a polling place. Do you do a quick eeny, meeny, miny, moe chant? Flip a quarter? Every person that runs for board of education is doing it because they support public education, right?
Not so fast.
This year there are two candidates running as the "Conservative Education Slate" for seats on the Cecil County Board of Education. Kevin Emmerich is running in District 1 (Chesapeake City) and Ron Lobos is running in District 2 (Elkton).
Unfortunately for Cecil County, it appears these two candidates are attempting to start a hostile takeover of the board of education.
Why do I say that?
The fine print in one of their recent campaign images includes "Authority: Conservative Education Slate."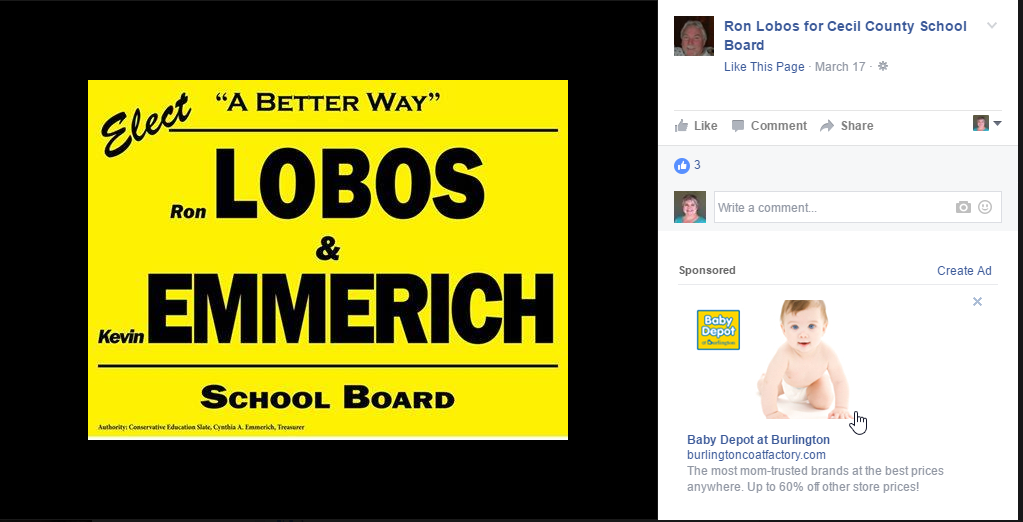 Need more evidence?
The Cecil County Campaign for Liberty shared the Cecil Whig article about Mr. Lobos' decision to run for board of education. In the comments below the story, Mr. Lobos posts:
"I'm going to need a lot of help and support, mostly after I'm elected. That's where the rubber meets the road. This will be a process to turn things around fiscally where we will need a majority of conservatives. Please support Kevin Emmerick for school board in the 1st district. He is also a conservative and I will need him just to second a motion when going to bat. Kevin is a good man."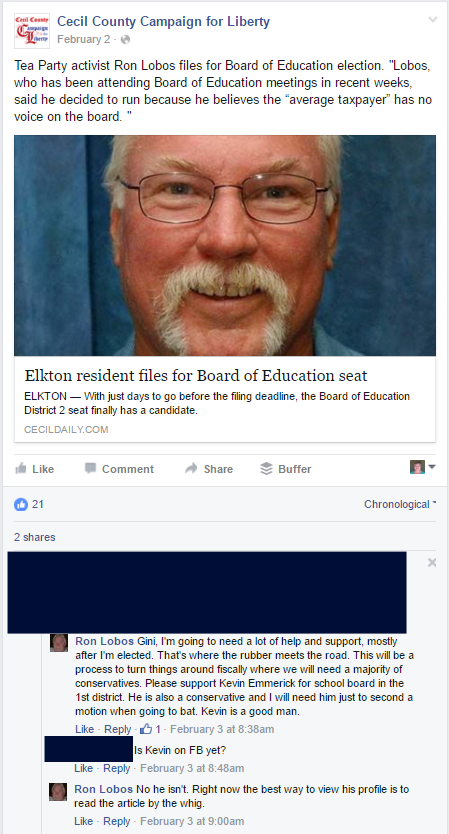 Long before he filed to run for the board of education seat, Rob Lobos was an outspoken critic of CCPS. He routinely criticizes the school system at county council meetings, budget hearings, and town hall meetings and frequently shares his thoughts about CCPS on Facebook. Here's one example:
"And now we have the CCPS asking her for an additional $8M that will be paid annually to them for the foreseeable future. Once again, Moore will make excuses for the CCPS and reward them for mismanaging their money."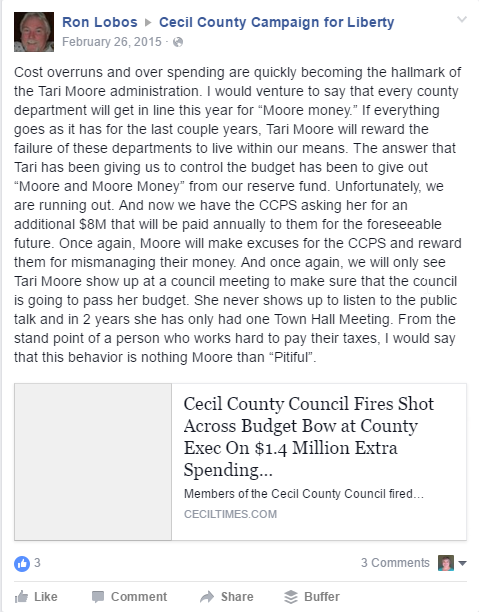 Now, he's asking the citizens of Cecil County to elect him to a seat on the board of education.
What do Kevin Emmerich and Rob Lobos really think of our schools?