Advocate…or Else?
Note: The articles on this website are my opinion based on my research and observations. I am not employed by Cecil County Public Schools.
Last week new Cecil County Public Schools superintendent Dr. Jeffrey Lawson presented his first proposed budget to the Board of Education and a typically sparse audience. (To their credit, new Cecil County Council members Al Miller and Bill Coutz were in attendance.)
I'll be posting more detail as the budget develops but the short story is the proposed operating budget for FY 2020 is an increase of $6.4 million over the FY 2019 budget.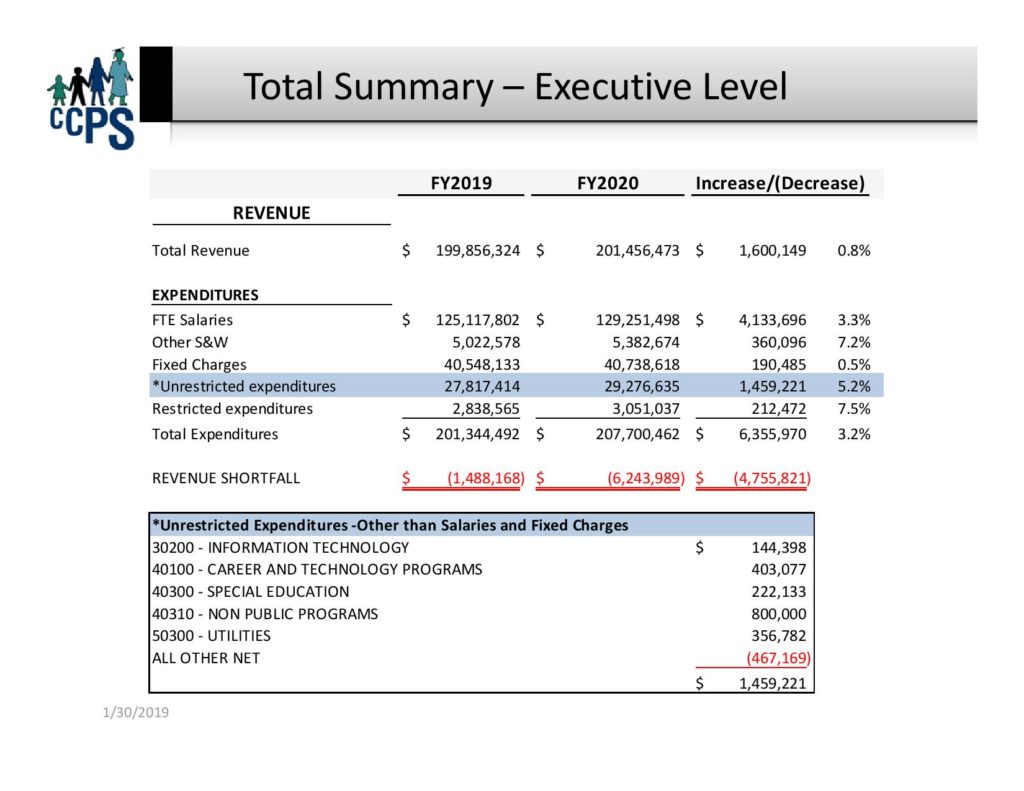 While opponents distort the data any way they can in order to inflame the uninformed, the reality is pretty straight forward.
The increase can be broken into two pieces:
Salaries–$4.1 million–Employee cost of living (COLAs) and step increases stipulated in the county's contracts with various employee groups (teachers, support staff, etc.).
Cecil County Public Schools is the second largest employer in Cecil County (only WL Gore employs more people) with just over 2,000 employees, many of whom are county residents so much of that money gets spent within the county.
CCPS honored those contracts during the darkest days of the recession in order to maintain the quality of its workforce and reduce the number of employees defecting to neighboring school systems. When funding suddenly dried up in 2009 and hard decisions had to be made, CCPS opted to cut over 150 positions in order to continue providing increases for remaining employees.
It's important to note that the proposed increase includes a plan to cut 12 positions as part of this budget (During his presentation, Dr. Lawson specified that most of the cuts will happen from a hiring freeze that is already in place and attrition as people opt to leave positions at the end of the school year.)
Everything else–Even with cuts across various departments, including some cuts that are substantial, and overly optimistic (my words) projected savings, the proposed budget requires additional funding.

Some of the bigger ticket items in the budget:
$360,000–Other salaries & wages–this includes substitute teachers, overtime, and similar expenses.
$190,000–Benefits
$800,000–Non-public school programs–Cecil County is required by state law to provide an appropriate education for all students and if the public school system can't provide the education services students require, the county must pay for those students to attend private schools that provide the necessary services.
$400,000–Diesel Program at CCST–Supplies and materials need to be purchased in order to begin offering the diesel technician program at Cecil County School of Technology. I've seen a lot of interest in this program since it was announced a few months ago but without this funding and an additional $200,000 in capital funding for the necessary building renovations at CCST, I don't see how it will happen this fall.
$220,000–Transportation–Increased expenses for transporting special education students
$330,000–Utilities–Summer heat that extended into the fall meant more air conditioning and the overall cost of fuel is projected to increase.
I could and will go into more detail in future posts but that's the budget in a nutshell.
Update 3/15/19: CCPS released the video below about the budget.
Bottom line: Advocate…or Else?
For those posting comments along the lines of "The schools need to tighten their belts" and find the money for these increases in the funding they already receive, while your insight is helpful ANY FAT WAS CUT FROM THE BUDGET YEARS AGO. Now we're cutting into the meat.
Citizens: if you want CCPS to retain and attract quality teachers and staff and/or if you want to see a new diesel program introduced at CCST, you'll need to advocate for this budget.
Employees: you know better than I do which school systems have not given increases in recent years or are considering that option as part of their FY 2020 budgets, the county needs to hear from you or that could become a reality in Cecil County (again, my words). With 2,000 employees, your collective voices would drown out the squawking of the few persistent malcontents but the county has to hear from YOU.
Budget Timeline
February 12 – County Executive Public Hearing (Citizen Input) 6:00 p.m.
February 20 – Board of Education Budget Hearing, 6:00 p.m.
March 11 ‐ Board Approval of Proposed Budget, 6:00 p.m.
March 29 ‐ County Executive Submits Proposed Budget to Council
April XX ‐ Board of Education Presentation to Council
May 23 ‐ Council Hearing on the County Annual Budget
June 4 ‐ Council Approval of the County Annual Budget
June 10 ‐ Board Approval of the Budget, 6:00 p.m.
Contact the County Executive Now
If we wait to advocate until County Executive Alan McCarthy submits his budget to the County Council, we'll be too late. At that point, council can only approve the budget or cut it (they can increase education funding but any increase has to be offset by a decrease somewhere else).
To share your support of the budget or to advocate for specific parts of the budget, you can email County Executive Dr. Alan McCarthy at [email protected] and Director of Administration Mr. Al Wein at [email protected].