Tonight the Cecil County Council will host its annual public budget hearing at Elkton High School. We will see many familiar faces as the usual contingents show up in support of their particular causes–Cecil County Public Library, Cecil County Public Schools, Cecil College, various public safety organizations–and many of us will say essentially the same things we've said in previous years.
Tales from Last Year's Budget Hearing
But there's always a group that speaks against any funding that doesn't directly benefit them and they will tell some tall tales. Last year they got up one after the other and told the council how people were moving from Cecil County to Delaware because the proposed tax increase was too high.
I don't follow Delaware taxes closely but I seriously doubted their claims were based on facts. One thing the speakers overlooked was the fact that school districts in Delaware have taxing authority, a funding source Cecil County Public Schools doesn't have.
Here's an example from one of the school districts most favored by home buyers:
At the same meeting on July 11, the board also approved the designs of the new elementary school and another new building containing a middle school and high school.
Effective immediately, the property tax rate will increase by about 25 cents from $1.8473 to $2.1024 per $100 assessed value. District officials have delivered the tax warrant—which lists the new rate–to the New Castle County government. The property tax bills should be mailed out by the end of this month.
Delaware does have some tax benefits but it's far from a mass exodus and the speakers didn't present any data to support their assertions.
Facts to Preempt Other Tales
Based on some of the messages I've seen repeated online from this same cast of characters, let's put out a few facts in advance of the hearing.
Not all of Cecil County Public Schools' fund balance is available for discretionary spending
Yes, Cecil County Public Schools did end FY17 with a fund balance of $16 million, however, it's not as if the school system is sitting on a pile of cash that it can spend any way it wants. The use of much of that money is restricted either by board policy (the $5.9 million identified below as "Budget Contingency") or
government accounting standards
.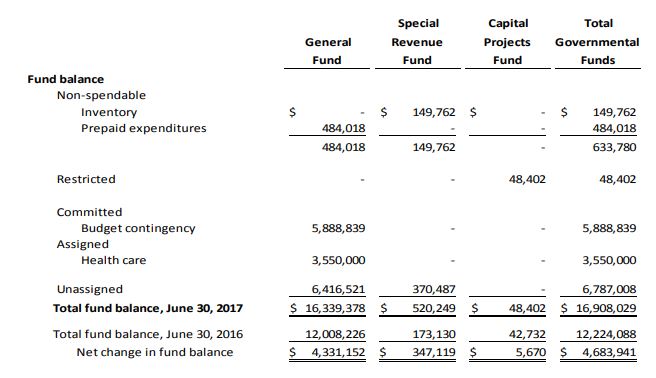 The amount identified as "Unassigned" in the above image has been the topic of much discussion in the last few months as the CCPS board of education voted to use some of those funds for projects including secure school entrances at four schools, new security cameras at all high schools, a new phone system, and *gasp* the long-requested field house at Perryville High School–and the county council approved that designation of funds.
Read all about that here
The Governor's Salary isn't a Yard Stick for Determining the Compensation of School System Leadership
I've seen it repeated several times in the last few months: the new superintendent of CCPS will have a salary higher than that of Maryland's governor. That statement itself is true–According to this
database of Maryland salaries
, Governor Larry Hogan will make $175,000. In comparison, the minimum
salary advertised for the new CCPS superintendent
was $190,000. (Dr. Jeffrey Lawson was selected as the incoming superintendent at last week's board of education meeting, however, I haven't yet seen any information about the salary agreed upon in his contract.)
The qualifications for the positions are very different.
A candidate for the governor need only be:
at least 30 years old
a resident and registered voter in Maryland for the five years preceding the election
There are no requirements around higher education or work experience–just age and residency requirements. Heck, most of us in the room for the budget hearing will meet these requirements.
Have a master's degree from an institute of higher education
Have 3 years of satisfactory teaching experience and 2 years of satisfactory administrative or supervisory experience in a PreK-12 school setting
Submit a minimum of 24 credits of post-master, graduate coursework in educational administration and supervision to include a balance of coursework in specified areas
While most superintendents meet the requirements to run for governor, current and previous governors don't meet the requirements to run a school system. At the budget hearing, there will be only a few in attendance who meet these requirements.
Learn & Share Facts–not Fiction
I'll say it again: Not everything you read online (or hear people say) is true. Choose your sources of information wisely and only share the truth.
What Can You Do to Advocate for Education?