On March 30, Cecil County Executive Alan McCarthy announced his proposed county budget for FY 2019 which included $1.1 to install the county's third artificial turf playing field at Bohemia Manor High School.
But don't plan that ribbon cutting yet–
Getting the field into the proposed budget is just the first hurdle for this project.
It's not a done deal…not by a long shot. The proposed budget is now in the hands of the Cecil County Council for approval and, while they can't add to the budget, they can, and will, cut items from the budget.
And a $1 million project is an easy target, especially when it's part of a $2.2 million capital budget for parks and rec, a budget that includes $400,000 for unspecified improvements at the newly acquired Bittersweet park and $700,000 in additional improvements at the Calvert Park complex.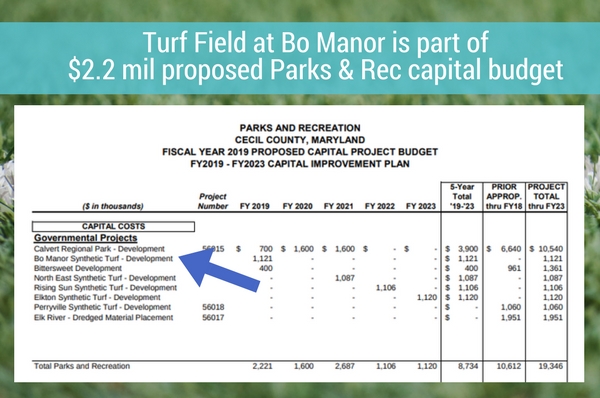 Budget deliberations are always dramatic and this year's deliberations will be no different. It would be easier for the council to cut the field than to face the ire of the small but outspoken group who relentlessly lobby for lower taxes year round.
In order for this field to become a reality, the Bo Manor community will need to advocate for the project to the county council.
Until the council approves the budget in early June, nothing is final.
Advocacy is a group effort
When we advocated for the turf field at Perryville High School during last year's budget deliberations, we tried to send at least one community member, be it a coach, a parent, or another interested party, to each speaking opportunity, and we encouraged people to join them as a show of support.
Only one person needs to speak but make it clear that the others in attendance share the same concern. One night I convinced my husband and teenage sons to wear Perryville swag and sit in the crowd at the council meeting while I spoke. On a different night our principal and some coaches joined us at a council meeting. Every touch counts.
Email is also effective
Not everyone is comfortable with public speaking so keep in mind that email is also effective. One of our coaches took the time to spell out the names of this players and the injuries they suffered that he attributed to our field conditions in previous seasons. Tell the council your unique story.
Here's what you can do to advocate: