At least they won't be paving paradise?
In my last post I shared some of the reasons for my mixed feelings on the budget Cecil County Executive Tari Moore proposed on April 1–but not all of them.
While I'm a vocal advocate for public education, I also expect the county to adequately fund the other operations that are necessary for modern society. Emergency services, public works, law enforcement are just some of the departments and activities that are critical to the future of our county.
Thumbing through my dog-eared copy of the FY 2017 Proposed Budget in Brief, I was shocked to see the budget for the Cecil County Department of Public Works reduced by $2.4 million next year. Click here to read it for yourself
"The Department of Public Works is proposed to be funded for FY 17 at$ 9,698,038, a decrease of $2,376,304, or 19.7% versus FY 16, largely due to decreased funding support for road overlay."
The budget specifically notes a $1.8 million reduction in the Roads Maintenance budget, a 46.1% decrease compared to the FY 2016 Revised Budget.  (page 17)
Has road maintenance gotten cheaper?
Probably not.
Are our roads in such great shape that few need paving and repair this year?
Doubtful.
The $2.1 million proposed for Roads Maintenance is significantly lower than the actual costs in FY 2012, 2013, 2014, 2015 and the 2016 Year to Date Actual Costs of $2,830,351 (per the FY 2017 Expenditures Budget Report posted on the county website. There isn't a date on the document so I'm not sure how much of the year's expenses are actually represented).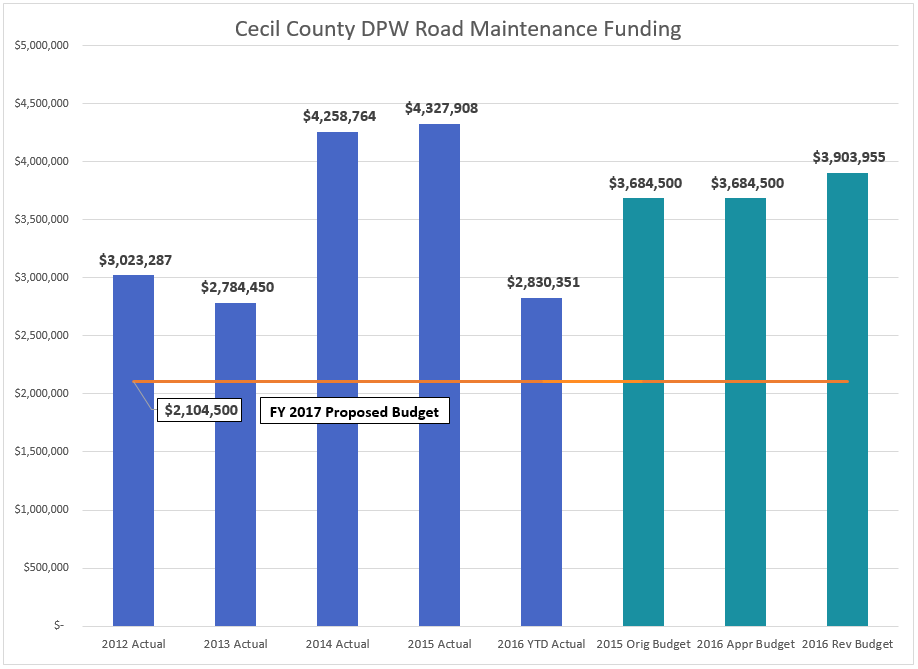 And represents a 100% reduction in "Asphalt Overlay." One million dollars for road paving–the entire budget for that line item–cut.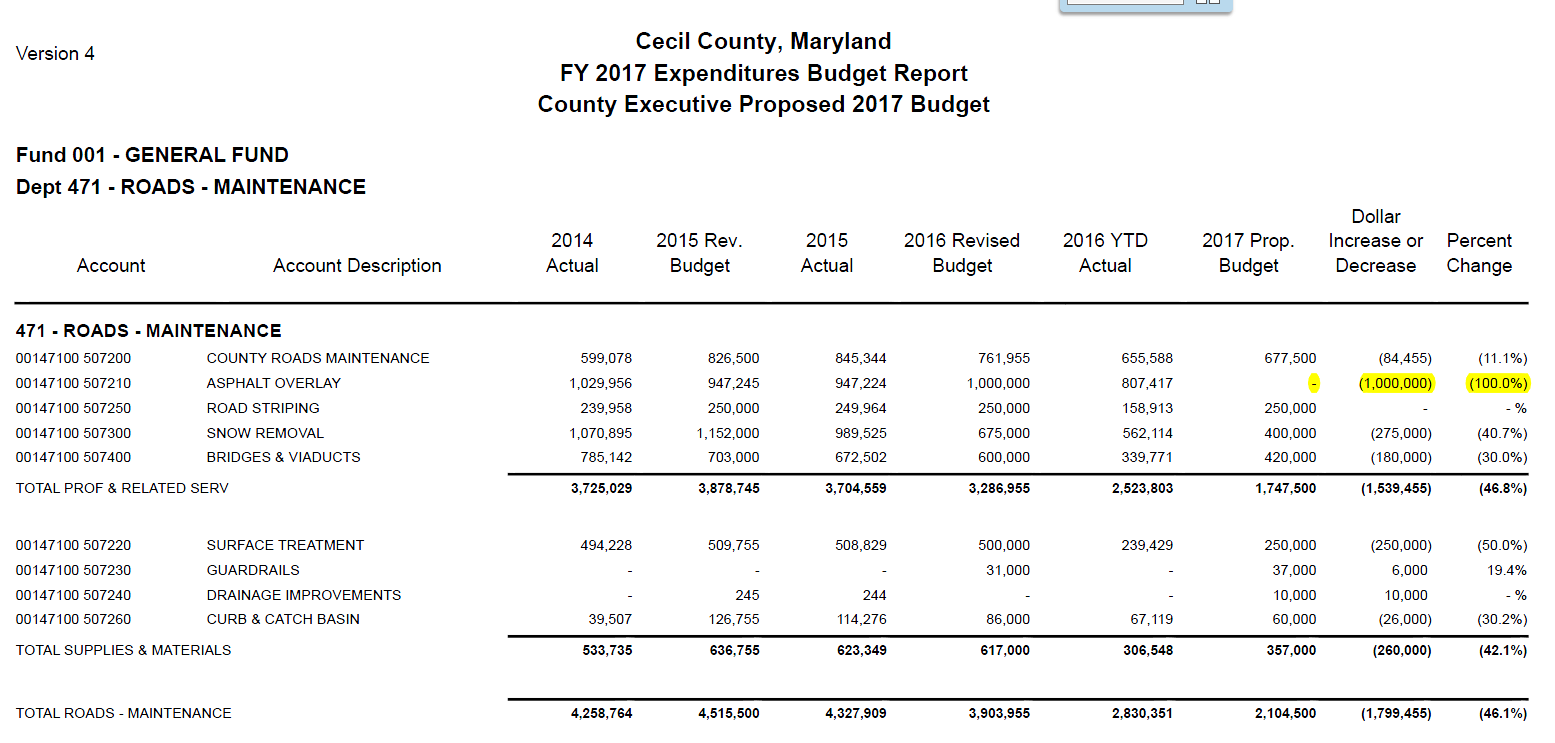 I'm a little surprised that there hasn't been a peep from the council, the media, or the public questioning the proposal to cut road paving in 2017.
We've seen how such draconian and short sighted spending cuts have damaged our school infrastructure. Cecil County Public Schools and, therefore, the citizens of Cecil County are now facing a list of deferred maintenance projects totaling $44 million because of the county goverment's decision to not adequately fund capital improvements at our schools.
Can we afford to have the same thing happen to our transportation infrastructure?
It's not too late. The council will be deliberating on the budget in the coming week and will vote on June 7.
Email the county council and administration and share your thoughts with them.
Here are email addresses to copy and paste: tmoore@ccgov.org, amccarthy@ccgov.org, jbowlsbey@ccgov.org, dschneckenburger@ccgov.org, gpatchell@ccgov.org, rhodge@ccgov.org, awein@ccgov.org, randerson@ccgov.org, wrobinson@ccgov.org
If you had $1.8 million, what would you do?