Updated 2/6/17 to include FY18 budget info and change county contacts
If your child is in the Perryville High School "feeder pattern," (which means he or she attends or will attend Perryville High School. This includes students attending Charlestown, Bainbridge, Conowingo, and Perryville Elementary schools and Perryville Middle School), it's time for us to speak out together in support of capital projects that are critical needs at the school.
This year's CCPS small capital budget request to County Executive Alan McCarthy includes three projects for Perryville High School. Two are long overdue, one is part of a system-wide school safety initiative. Regardless, if we don't advocate for these projects, there is little chance they will be included in the County Executive's proposed budget FY 2018 which he will present to the County Council on 3/31/17.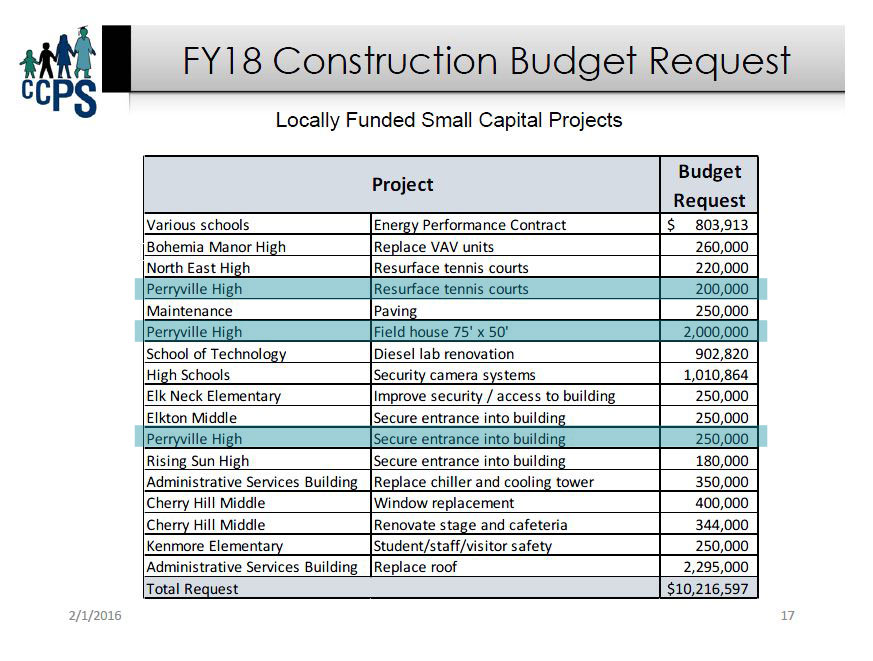 County-funded Projects Requested for Perryville High School
Tennis court resurfacing–Cost $200,000
Requested since the FY 2014 budget
Enhanced security at building entrance–Cost $250,000
The building is secure and visitors must be buzzed in the locked doors during the school day but, once a person comes in the front door, there is nothing to prevent them from traveling the short distance down the hallway into the cafeteria, auditorium, or gym. All spaces that are used by classes during the school day. Funding for security enhancements at Elk Neck Elementary, Elkton Middle, Rising Sun High, and Kenmore Elementary is also included in the FY 2018 capital budget request.
Field house–Cost $2,000,000
Perryville is the only high school in the county without a field house. I'm not sure why the county has refused to fund this project for so long but it's become quite clear that the school won't get one if we don't speak out in support of it. This has been part of the budget request since at least 2009
If you have ever said the words "Perryville needs field house," I'm calling you out.
In the six years I've spent on the sidelines of sporting events, I've lost track of the number of times I've heard people complain about the absence of a field house at Perryville. The time for grumbling is over. It's time to email or call County Executive McCarthy and let him know you support funding for a field house at Perryville.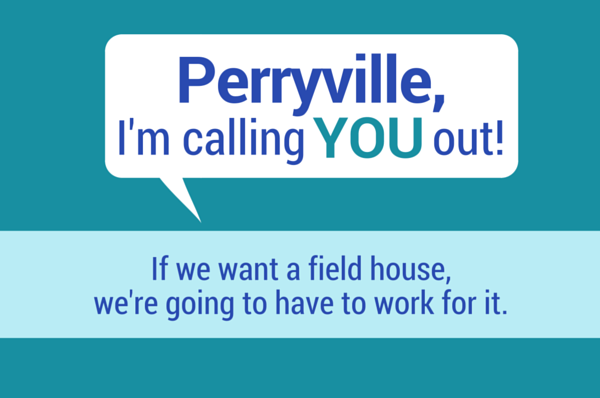 Out of sight, Out of mind?
Three years ago, when I first spoke to the county council, at least one of the council members assumed that the building housing the snack shack, press box, and cramped bathrooms was our field house. (Are you done laughing yet?) Sitting in that meeting I realized that the members of the council were not familiar with the facilities at most of our schools and that's when I started posting photos on this blog.
There aren't that many schools in the system or in any one council member's district, how is it acceptable that they haven't visited at least most of them during their terms in office? It's little wonder our young adults aren't active in local politics when they have never heard of these officials or seen them on school property–even at graduation.
Officials rush to attend events with ribbon cuttings and reporters–they need to also show up at events like concerts, plays, and sports to see the good things happening in our community schools as well as the needs. When you don't have to set foot on the properties that you've refused to maintain or improve or see the students who attend those schools, it's easier to treat them as just another line item in a budget.
For the last decade, the county has funded few of the capital projects that CCPS has requested, leaving us with a huge, expensive backlog that is growing more expensive with each passing year. As construction costs climb, continuing to defer these projects will result in the county paying more for projects that have been identified for years.
Athletics are Underfire
There are groups in this county who believe Cecil County should not fund ANY sports or athletic facilities at our public schools and they are vocal in their misguided thinking. In fact, this may be an issue that differentiates the candidates in our upcoming local elections.
What Can You Do?
Contact the County Executive and members of the County Council and encourage them to fund the small capital budget CCPS request. County Executive McCarthy will submit his proposed budget to the County Council on 3/31/17 so it's important that he hears from us now.
County Executive
Alan McCarthy–amccarthy@ccgov.org
(410) 996-5203
Director of Administration
Al Wein–awein@ccgov.org
(410) 996-8300
Mail:
County Administration Building
200 Chesapeake Blvd., Suite 2110, Elkton, MD 21921