aka "Why doesn't Perryville High School have a field house"?
Originally posted 3/1/15, Updated 4/13/17
Another question that is frequently asked–or maybe, more accurately, grumbled about–on the sidelines of sporting events at Cecil County Public Schools, is why school facilities in Cecil County aren't on par with those of bordering school systems.
Welcome to Ceciltucky!
The Perryville High School boys' soccer team had an exceptional season in 2012. Because of that, their 2013 regular season schedule included games with Harford County teams they hadn't played in recent years. Perryville hosted teams like Bel Air and C. Milton Wright and played at schools like North Harford and Patterson Mill.
It was almost funny to watch the fans from Harford County show up for our home games. They were in complete disbelief at the sad state of our facilities. They didn't even have folding chairs in their cars because they were expecting to find bleachers on our fields. Not only did we lack any kind of seating, but our fields were embarrassingly bare. Meanwhile, in Harford County and neighboring districts in Delaware and Pennsylvania, schools have stadiums with either turf or grass fields that have been maintained.
4/13/17: This wasn't an isolated case. A few weeks ago, I was chatting with a coworker whose daughter plays for C. Milton Wright's lacrosse team. CMW was travelling to Perryville the next day for a game. Her first question? "Does Perryville have turf?" After I stopped laughing, I explained that, sadly, no high school in Cecil County has turf. She then recalled sitting in dilapidated bleachers at a game at a Cecil County school several years ago. She couldn't remember which school it was but she described the drive to me. You guessed it–she was talking about the now-replaced bleachers at North East High School. You might think opposing teams' fans are only paying attention to the game on the field but they notice, and remember, the state of our facilities.
If you think schools don't contribute to the home buying decision, ask anyone from outside Cecil County who happens to be visiting a CCPS school for sports or other extracurricular activities if they would consider purchasing a home in the county.
Why Doesn't Cecil County Have Comparable Facilities?
The Cecil County Public Schools FY 2016 Budget Request includes two lists of capital projects:
Large capital projects which are funded jointly by the state of Maryland and Cecil County
Small capital projects which are the responsibility of the county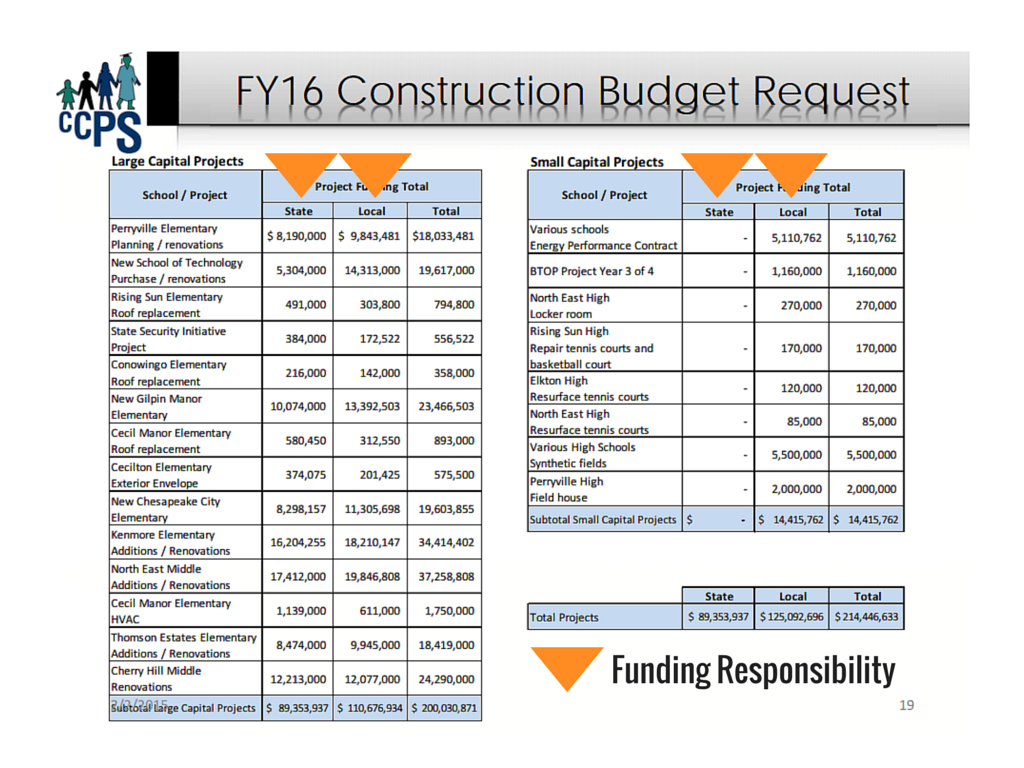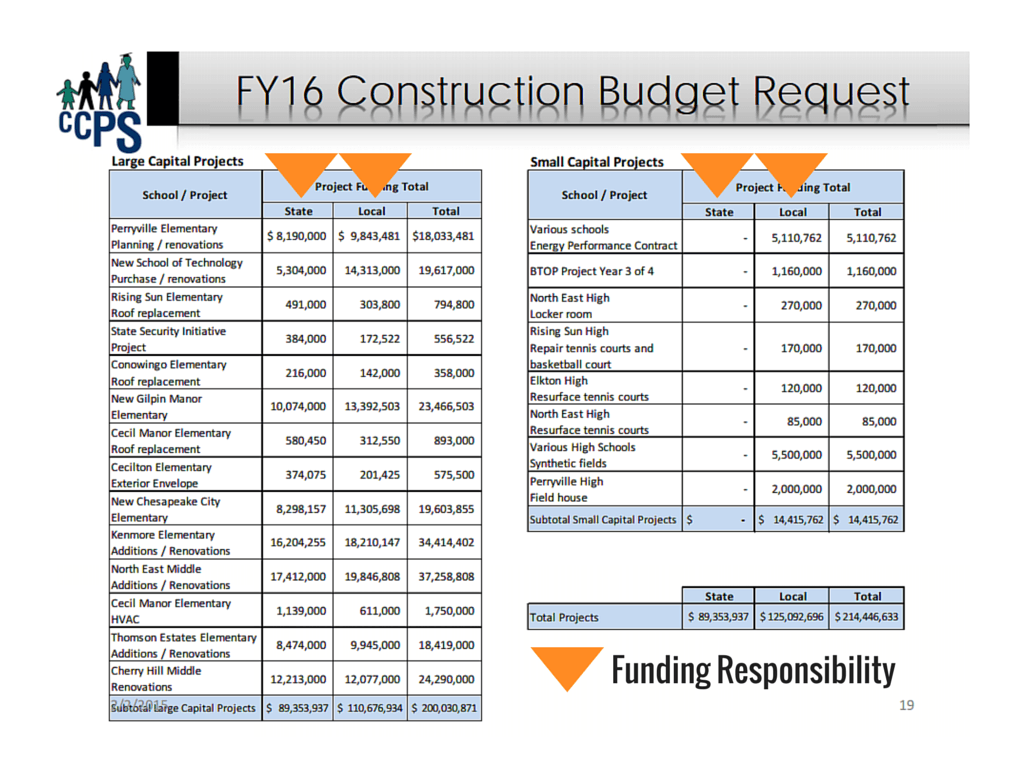 Projects like tennis courts, athletic fields, locker rooms, and the ever-elusive field house at Perryville High School are solely the responsibility of the county. And most of the projects on the FY 2016 request have been included, and denied, as part of past budget requests. Tennis courts at Elkton, North East, and Rising Sun High Schools and the renovation of the locker rooms at North East High School were included in the FY 2013 request. A field house for Perryville High School has been included in the requests for FY 2014, 2015, and now 2016. (4/13/17: The tennis courts at Rising Sun High School were replaced in the FY 2017 budget and new tennis courts at North East High School are proposed in the FY 2018 budget.)
Turf fields were included in the FY 2015 and FY 2016 requests. While turf may sound like a luxury and it is to a certain extent, the reality is that athletic fields in Cecil County are used essentially year round which means there is no time for the fields to be seeded and maintained. Fields for soccer and football in the fall become lacrosse fields in the spring. And still it boggles my mind how the county thought it was appropriate to fund a turf field at a new parks and recreation location while our school athletic fields are little more than dirt and weeds.
These are not new project requests but a list of needs that Cecil County has allowed to grow without ever devising a plan for addressing.
Why doesn't Perryville High School have a field house?
I'll admit that I didn't even know what a field house was until last spring but one reason I started learning about the CCPS budget process was because I wanted to understand why other schools in the county had such a facility while our high school didn't. Initially I incorrectly assumed that CCPS didn't think Perryville needed a field house; now I know that CCPS has repeatedly requested the funding for such a project but has been denied by the county. (4/13/17: In February, a group of us from the Perryville community attended County Executive Alan McCarthy's town hall meeting on the FY 2018 budget and two of us spoke about the need for a field house. While the county executive didn't include the field house with a $2 million price tag in his proposed budget, he did propose the installation of turf at Perryville at a cost of $1 million. However, that project is far from a done deal because the county council could still cut it from the budget.)
So, to anyone wondering "Why they have (turf or a field house) and we don't?" I say please take the time to email or call Cecil County officials and ask them that question. Let them know that these projects matter to you.
If full funding of our public schools is important to you, please contact the County County Council today.
Contact information updated 4/13/17
Just copy these email addresses for our council members and paste them into an email: jbowlsbey@ccgov.org, dschneckenburger@ccgov.org, gpatchell@ccgov.org, bmeffley@ccgov.org, jgregory@ccgov.org
Call the council members at +1(410)996-5201.