Update 3/17/19:
Replacement of the tennis courts at Rising Sun High School was funded in the county's FY 2016 budget. The courts at North East High School were replaced in 2017 with funding Cecil Count Public Schools recouped from a rebate program.
The courts at Perryville High School and Elkton High School? They have yet to be funded by the county despite being included in most budget requests since at least 2013. (They are not included in the CCPS budget request for FY 2020 because other projects were deemed to be more pressing, however, that doesn't let Cecil County government off the hook. These facilities–all of them–are the county's responsibilty.)
How has the state of those courts affected the tennis teams at those schools? Both Perryville and Elkton played home matches at Cecil College last spring because the high school courts were deemed at least temporarily unplayable. CCPS maintenance teams have done all they can to patch the courts but, at a certain point, replacement is the only option.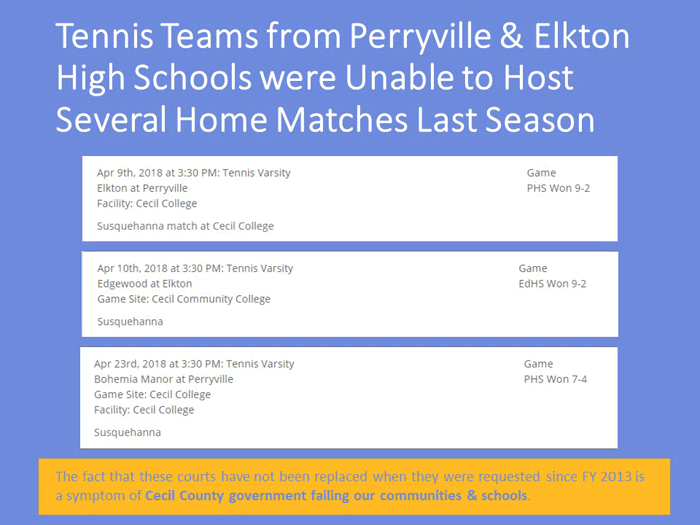 This post from 2015 includes more specifics about the state of the facilities at our schools.
---
At a recent Cecil County Public Schools budget hearing it was announced that the tennis courts at 3 of our 5 high schools in Cecil County are in need of replacement, not repair, replacement. Most likely this is a direct result of the county's insufficient funding of the school system for the last 5 years. I'm sure this could get spun into "Polar vortex, harsh winter, etc."–whatever you have to say to make yourself feel better but, from the photos here, you can see that this damage has been a long time coming. (Update 3/5/15: These tennis courts have been in the CCPS budget request since at least FY 2013 so this need was identified more than 4 years ago!)
I wondered how the tennis courts looked. Could they be as bad as the track at Perryville High School last spring before it was "deemed unfit for competition" (that means "condemned" to me) and then replaced? So I took a detour this evening to look at the tennis courts at Rising Sun High School. Wow! What a disgrace! Those lines that are brighter green in the top photo? Attempts to batch the failing surface. The court pictured in the second photo? Absolutely unplayable. Of the six courts at the school, I'm not sure how many are actually suitable for use.
Cecil County Needs to Maintain Existing Facilities
Unlike sports like football or soccer, tennis is a "lifetime sport" because it can be adapted for people of many skill levels and ages. Not only are these courts used by the traditional tennis teams at our high schools but they are also used by corollary school athletes and our communities at large. Safe, Healthy, Active Communities is one of the five strategic priorities of the Cecil County Strategic Plan–yet the facilities in our communities have been largely ignored. As a member of the board of education said on Monday night, we appreciate the sentiments of the strategic plan but sentiments alone aren't getting the job done.
Again, This Isn't Just About Sports and It's Not Just About Perryville
While the tennis courts at Rising Sun, North East, and Elkton High Schools are in the worst condition, I know the courts at Perryville aren't too far behind them so it's probably fair to guess that the courts at Bo Manor aren't in great shape either. And I know there are many, many needs inside of our school facilities but exterior sports facilities are easier for me to access outside the normal school day. These issues are just symptoms of a larger problem in Cecil County.
If full funding of our public schools is important to you, please contact the County Executive and members of the County Council today.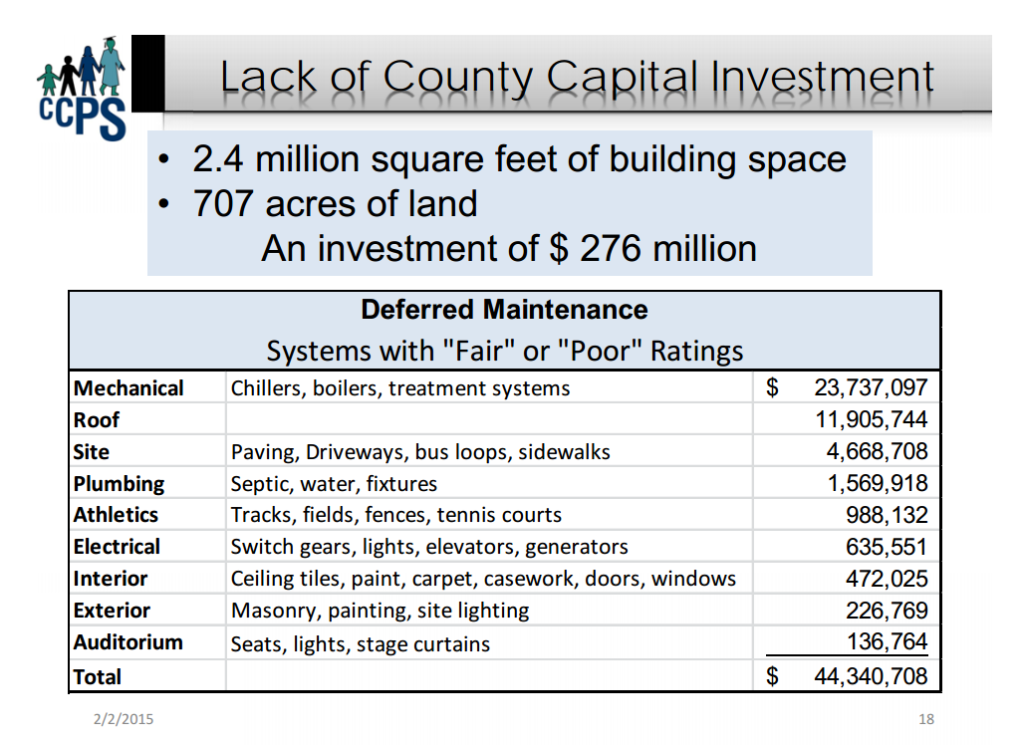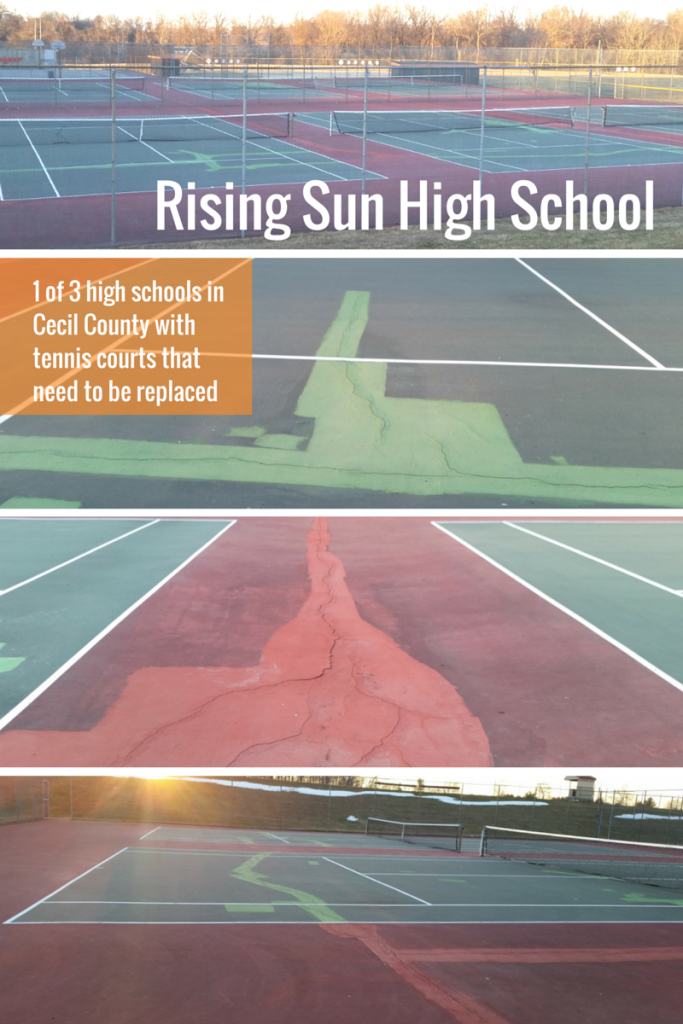 Source: FY 2016 CCPS Superintendent's Proposed Budget
If the full funding of education in Cecil County is important to you, email County Executive Alan McCarthy at amccarthy@ccgov.org and Director of Administration Al Wein at awein@ccgov.org or call (410) 996-5203. (While replacement of the courts at Perryville and Elkton is not included in the CCPS budget request, the county still needs to hear from you.)